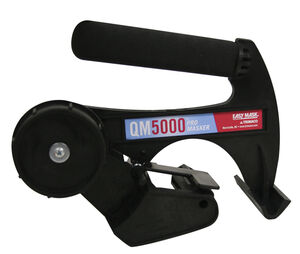 TRIMACO Easy Mask QM5000 PRO Masker
---
Useful when masking an area before painting
Applies tape and paper at the same time and with an ease of use
The QM5000 PRO Masker by Trimaco has a comfortable grip, making it easy for professional painters to cover areas. Use the professional masking system with Trimaco masking papers, films, tapes and blades. The masker attaches tape to the edges of either film or paper, allowing professional painters and decorators to easily mask off large areas. Blade supplied separately (CUTOFFB12).
Fast and easy – load, mask, cut
For commercial or residential use
Prep 3x faster
Description
Datasheet
Reviews
Product information
Useful when masking large areas before painting. Comfortable grip and easy to use.